Filbert/Hazel (Corylus)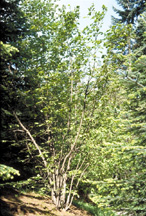 Leaves are simple, alternate, and deciduous, with saw-toothed edges and very fuzzy surfaces.

Fruit is a large nut enclosed in a papery husk.
May grow as a small tree or large shrub.

Twigs often zig-zag.
---
The filbert is a close relative of our native California hazel. Dozens of varieties of filbert are known: Oregon has one native. It is a small, deciduous tree (large shrub) easily recognized both in winter and in summer. In winter it bears long male catkins that shed yellow pollen. In summer the shrub is covered with soft, broad leaves, and ultimately nuts, each enclosed in a leafy "basket" called an involucre.
Oregon produces 99 percent of the nation's filbert crop, marketing them as hazelnuts.
California hazel: Oval leaves with heart-shaped base and drip-tip, doubly saw-toothed, hairy when shrub is young.
---

For more information on the alders native to the Pacific Northwest, go to the species page or see "Trees to Know in Oregon".