Willows (Salix)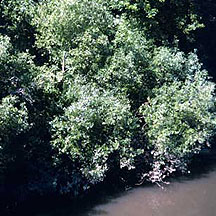 ---
As a group, willows are easy to identify - in fact, pussy willows are one of the first trees that many of us learn. But distinguishing between different types of willows, is a different story.The reason is that there are so many willows - North America has approximately 90 different types - and that many of the species interbreed, with the offspring having characteristics of both parents. As a result, most people are satisfied knowing that a tree is a willow, and leave it at that.
Oregon's Tree-Sized Willows:
---
For more information on the willows native to the Pacific Northwest see "Trees to Know in Oregon".