Dogwoods (Cornus)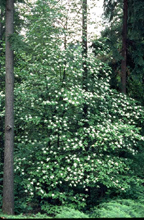 Leaves are simple, opposite, and deciduous with arcuate veins (arching veins that are almost parallel but converge at the tip).
Numerous tiny, tightly-clustered flowers are surrounded by large showy bracts that look like flower petals; range from white, to pink, to red.
Fruits are bright red or orange cherry-like drupes (like small cherries).
---
Dogwoods are noted for opposite leaves whose veins turn dramatically toward the apex when they reach the margin, and for large, showy flower "petals". In truth, these "petals" are actually white or pink colored leaves that surround clusters of tiny, densely packed flowers. Of the 45 species of dogwood that exist in the world, 13 are native to North America. Of these, only two species - one tree and one shrub - are native to the Pacific Northwest, although many others have been introduced for ornamental purposes.
Pacific dogwood: grows as a tree; has large, showy "petals" surrounding each flower; branches loop between leaf clusters; fruits are orange to red.
Western dogwood: grows only as a shrub; does not have large, showy petals surrounding each flower; branches are straight; fruits are white (will not be further described here).
---

For more information on the dogwoods native to the Pacific Northwest, go to the species page or see "Trees to Know in Oregon".