Cottonwood, Poplar, and Aspen (Populus)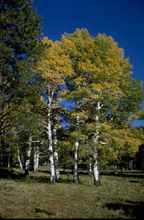 ---
Members of this group of trees may be called cottonwoods, poplars, or aspens, depending on what species they are. None-the-less, they are all members of the same genus, Populus. Perhaps the most distinguishing feature of this group of trees is their cottony fruits that fill the air and water around them in early spring. Because of this, male trees are often selected for shade and landscaping to avoid the unsightly "cotton" showered all over the place by female trees. The leaves of Populus tend to have silvery or white backsides, and very long leaf stems, which makes it apparent when the wind is blowing through them.
About a dozen members of this genus are native to North America. As a group, they are fast growers, sprout easily from root suckers and cut branch tips, and turn bright yellow in fall.
Three species are native to Oregon, but many others have been planted as ornamentals, shade trees, and for wind breaks.
Oregon's natives include:
---

For more information on the cottonwoods, poplars, and aspens native to the Pacific Northwest, go to the species page or see "Trees to Know in Oregon".