Cherries and Plums (Prunus)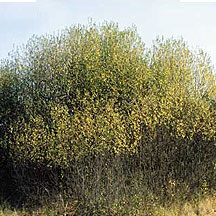 ---
Cherries and plums belong to a genus that includes apricots, peaches, nectarines, and almonds.
Collectively, they are called "stone fruits" because they have fleshy fruits with a single, large seed inside. Two other distinctive feature are small glands that occur on the base of the leaf or on the petiole (leaf stalk), and stipules - small, leafy "ears" that occur where the petiole joins the twig.
North America contains almost 30 native species of this genus, but only three are native to Oregon - two cherries and one plum.
bitter cherry: leaves elliptical; flowers in round clusters; bright red fruit; tiny gland on base of leaf.

common chokecherry: leaves oblong to obovate; flowers in elongated clusters; prominent glands on petiole.

Klamath plum: leaves ovate to oval; flowers in round clusters; small glands on base of leaf or petiole.
---

For more information on the cherries and plums native to the Pacific Northwest, go to the species page or see "Trees to Know in Oregon".