Birches (Betula)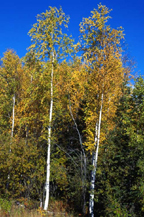 Paperlike bark with large horizontal lenticels.

Fruit is a 1" long papery, disintegrating cylindrical cone.


Leaves are small, alternate, and generally traingular in shape; always have serrated margins.
---
Birches are easily recognized by their paper-like bark and distinctive horizontal markings called lenticels. In most species, the bark peels off in papery strips. Another distinctive feature of all birches is their fruit - a papery, disintegrating, cylindrical cone about 1" long.
Birches are common ornamental trees. There are about 50 species of birch in the world. Eight species reach tree size in North America, and two of these occur in Oregon, although their ranges are small and scattered.
paper birch:bright white bark.
water birch (sometimes called red birch): reddish-brown to black bark.
---

For more information on the alders native to the Pacific Northwest, go to the species page or see "Trees to Know in Oregon".